Have you ever needed to look for natural pain relief? You probably heard about CBD and about how many are turning to it. But do you know why it is gaining popularity?
There are many misconceptions about CBD and it is important to note what it is and what it isn't. CBD is derived from the hemp plant (cannabis sativa), which contains hundreds of naturally occurring compounds called cannabinoids. One particular type, CBD (cannabidiol), is a cannabinoid, which, unlike THC (tetrahydrocannabinol), does not contain the psychoactive properties that makes one feel "high." This is due largely in part to the effect it has on the endocannabinoid system.
Our Endocannabinoid System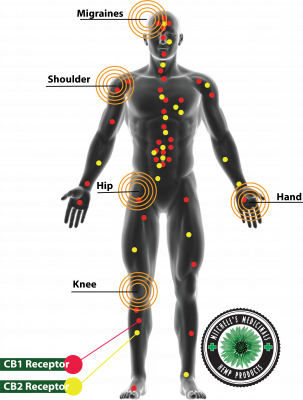 After researching the effects of cannabis sativa on the body, Dr. Raphael Mechoulam made the discovery of a biochemical communication system – the endocannabinoid system. This system plays a vital role in the regulation of mood, movement, reaction, and overall physiology of the body.
Research has shown that CBD has adaptogen qualities; meaning it works with receptors in the brain to modulate functions of the nervous system to achieve homeostasis. Put simply, the system finds what is not working properly and tries to bring it back to health. For example, if the body is experiencing pain and inflammation, you need to target that area until there is a balance.
The same is true for the oxidation of cells, which can cause degeneration and disease. In this regard, CBD has anti-oxidant qualities by helping to deflect free radicals in order to protect the body. It also has anti-spasmodic properties which are due to involuntary muscle spasms that could cause cramping or other discomfort.
In an era where stress is commonplace, scientists have just begun to uncover the full potential that CBD has in our bodies and on our endocannabinoid system.
What's your favorite way to use our products?
to be put into our monthly drawing for a free sample package!
The information provided is presented for educational purposes only. Mitchell's Medicinals provides this information to provide an understanding of the potential applications of cannabinoids.